Rajasthan trip Incredible experience with Bobby. Very trustworthy and friendly. He arranged hotels, tour guides and transport from jaipur to delhi, going also to Pushkar and Agra. Clean car, good drive. Very comfortable.
Highly recommended Travel agent in India I really recommend the services of the travel agent Jolly and his driver Manoj. I used to travel many countries but when I took services from jolly in india I feel that this company is the best on earth. I have already used their services many times for me and for my friends.Jolly personally ensured that everything run smoothly and zero mistake in his planning .Highly recommended.
ג׳ולי תודה רבה על תכנון מושלם- על יחס אישי- על בטחון וידיעה שתמיד יש מי שנמצא שם- על מענה מקצועי ומסור וענייני תודה על וואו וואו וואו איך להתחיל? טיילתי לראשונה בעזרתו של ג׳ולי לפני 7 שנים ומאז אין מבחינתח דרך אחרת לטייל בהודו אני ממלציה עליו בלי סוף ולא סתם- אני חוזרת שוב ושוב
Excellent experience Brilliant. Vikram was entirely trustworthy. The financial part was very polite and pleasant. The driver was a gem. Very accomodating. The hotels were gordeous and very authentic. Everything was flexible to meet our needs. Vikram was always available if there was a problem. Very highly recommended.
Our savious in Delhi Our saviours in Delhi - a pleasure to find such helpful and honest travel agents. We booked our whole Rajasthan tour with Jol Ly and we had the perfect trip.
Nous avons voyagé à deux reprises en lnde, dans la région du Rajasthan. Jolly est un excellent organisateur. Allez y les yeux Nous avons voyagé à 2 reprises avec Jolly. Excellente organisation, de très bons conseils. Voiture privée et climatisée, hôtels merveilleux. Que de bons souvenirs. Allez y les yeux fermés.
Joly et son équipe nous ont permis une découverte époustouflante du Rajasthan. Les conseils sur le périple étaient avi s Immersion dans les villes , découverte de temples extraordinaires, de la ferveur omniprésente de Varanasi et de la nature à ranthambore
ירון מזיכרון יעקב
2023-07-13
Perfect We had a great trip in India, thanks to Julli who organized everything for us. A charming driver dropped us off at the airport, a new car with air conditioning, good and clean hotels, recommendations on attractions and domestic plane tickets. My partner fell ill and Jolly helped and supported us. Jolly is both a good agent and a good friend and a wonderful person. Always remain friends. Highly recommended.
Very friendly service! Manoj our driver was lovely. He took us on a local tour of Delhi - our 1st visit to India. Very patient and friendly!
Great bespoke Tours I have booked two tours with Jolly in India. One was a full week (Golden Triangle) spring of 2021 just after COVID lockdown was lifted, and one was two days in Mahabalipurum. Jolly took me on a personal walking tour of Delhi. My driver for the week spoke very good English and did a great job. Jolly will fit your budget and preferences for an excellent bespoke tour. I loved the cultural museums. Every hotel I stayed at had excellent service. As a solo traveler I felt very safe in India. I highly recommend Jolly for your touring needs.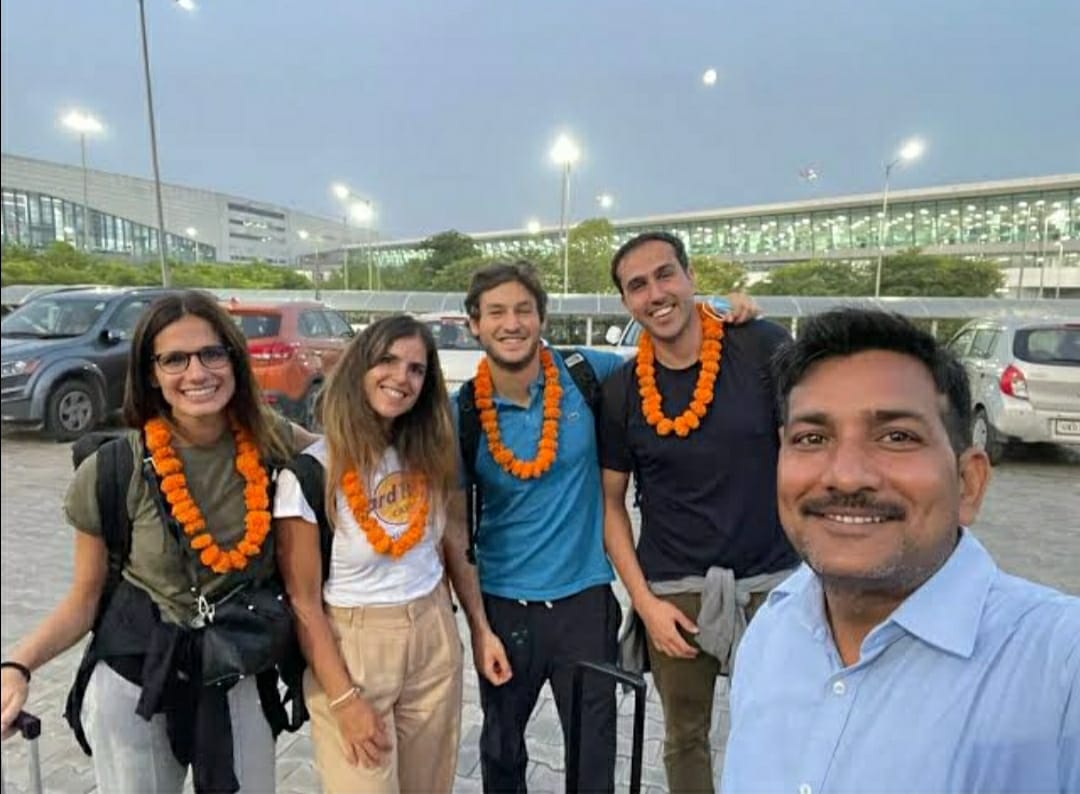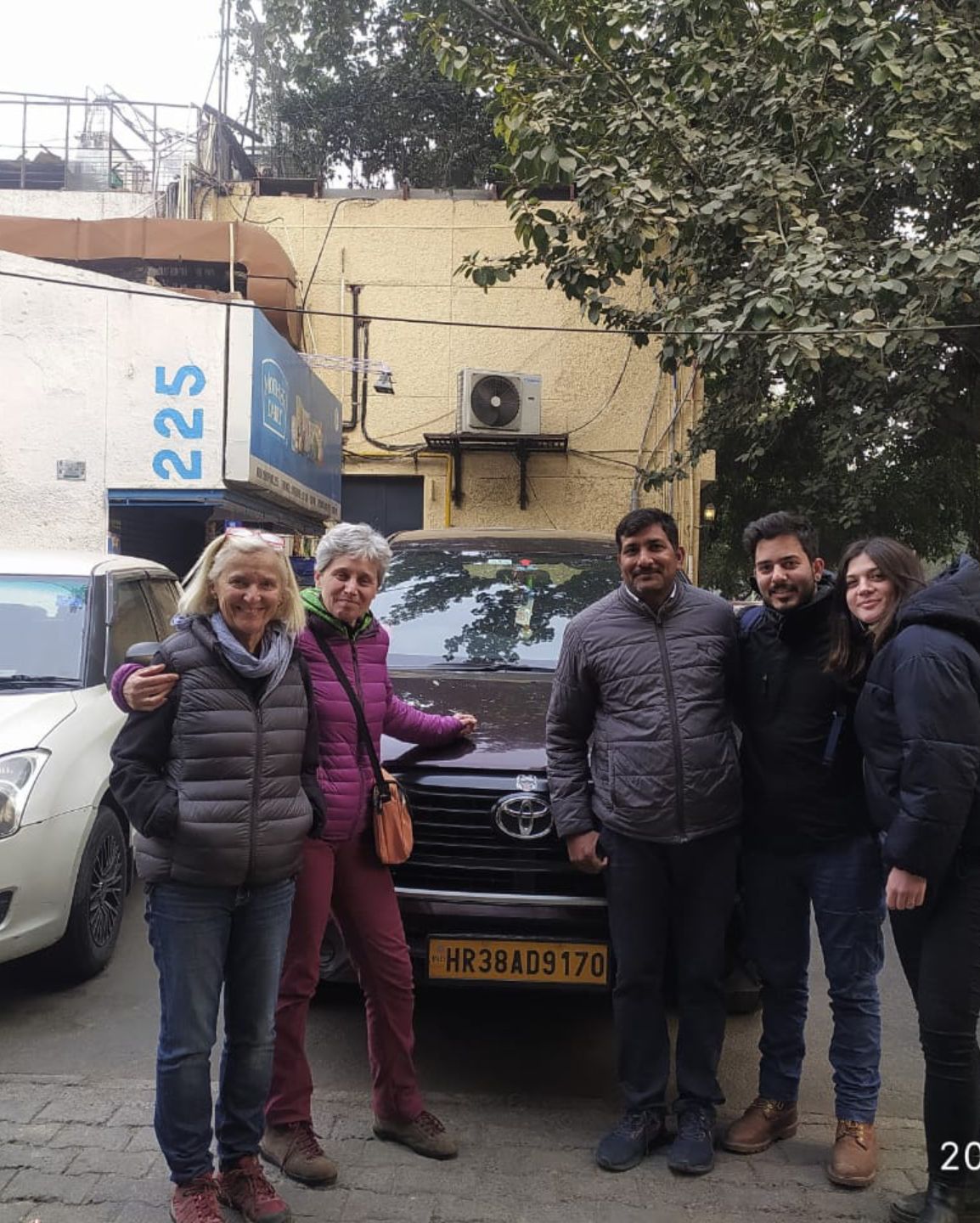 Welcome to Rajasthan Cabs
Welcome to Rajasthan Cabs, your premier gateway to experiencing the vibrant tapestry of India with the expertise of an Indian Private Driver. With a legacy rooted in trust and guided by five brothers boasting over two decades of experience in the tour and travel industry, Rajasthan Cabs stands tall as the epitome of tailored and immersive journeys.

Discover the enchanting wonders of Private Driver India with Rajasthan Cabs, your trusted companion for unforgettable journeys. With a legacy of trust and expertise, we are the preferred choice for travelers seeking to explore the diverse landscapes of this captivating country. Rajasthan Cabs specializes in providing Indian Private Driver to foreign tourists. Our dedicated team ensures a personalized and seamless travel experience, offering services such as private driver hire in India.Embark on our India private tours and immerse yourself in the rich heritage, stunning landscapes, and vibrant culture of this incredible nation.
Crafting Your Indian Odyssey with a Private Driver in India
At Rajasthan Cabs, we transcend the ordinary by offering more than just a private driver in India; we craft experiences that resonate deeply. Our Indian Private Driver tours are meticulously designed to immerse you in the rich heritage, stunning landscapes, and diverse cultures that define this incredible nation.
Your Personal Driver in India: Beyond Navigation

Our team of drivers goes beyond conventional roles; they are your personal drivers in India, fluent in English and deeply connected to the intricacies of the country. Beyond navigating roads, these Indian Private Drivers foster meaningful interactions, fostering connections with locals, and ensuring your journey becomes an authentic exploration rather than just a tour.
Tailored Experiences, Endless Discoveries with All India Drivers
Flexibility is key at Rajasthan Cabs. Our array of tour packages, led by All India Drivers, spans from single-day escapades to extended voyages, showcasing India's multifaceted charm. Whether you crave the architectural marvels of Delhi or the tranquil backwaters of Kerala, our itineraries cater to diverse interests, ensuring every moment is an enchanting revelation.
Cultural Immersion, Lasting Impressions with Personal Drivers

Beyond landmarks, Rajasthan Cabs offers an immersion into the heart and soul of India. Facilitated by your Personal Drivers, our tours unlock the intricacies of India's cultural tapestry and historical heritage, leaving indelible marks on your memories and enriching insights to share with your loved ones.
Best Tours by Private Driver
We offer you a flexible and personal service so you can see India your own way. Below are a few of the private driver tours we offer – just for some inspiration!. All of our tours can be customised to suit your personal preferences, or request your own personal tour of India.
Our Fleet
Do you want to take your trip to the next level of comfort? One of the best Tourist Car
Gallery
Take a look at some pretty pictures captured in and around our premises.
Our Reviews
Find out what our wonderful clients have said for us below!
Great time with Bobby! Totally recommended driver for a real indian experience
Edoardo Bernardi
30 May 2023
Me and my girlfriend had a great experience travelling with Bobby. In 7 days we visited Rajasthan from Jaisalmer to Jaipur and the city of Agra. From the very first moment, he spoiled us with snacks, drinks and fruit and did this practically every day. The drive was impeccable, making us feel safe in places where the roads are very complicated and always available for our requests or wishes. He allowed us to live some unique experiences such as a lunch in a Sikh temple and a visit to his home village to get a taste of the real India Totally recommended, we would chose them again
neeraj narasimhan
18 May 2023
A very neat and clean car with an excellent driver Manish. Would highly recommend for road trip of any duration
Gandikota Rajesh
25 April 2023
Good at communicating… Helps for side seeing… Good support….
We had a great time in Delhi. Bobby was such a kind companion and showd us beautiful places in Delhi. He was very flexible, cheerful, a lot if recommendations and exciting memories. Would totally contact him for my next trip to delhi. Thank you Bobby 🙏
Amazing and life changing experience in Incredible India with family! Manoj ji is a genuine trustworthy and professional driver. He is very knowledgeable and always go beyond his duty to help and guide you. Amazing 2 weeks in India. We started our journey from Delhi then Jaipur, Ajmeer, Pushkar, Jodhpur,Mont Abu, Udaipur, Haridwar, Rishikesh and then back to Delhi. Manoj transport service is a gem in India. 100% recommend him. Great guy, excellent service with nice 7 seater AC car making our road trip a comfortable one. 🌟 🌟 🌟 🌟 🌟 Blessed to have met him. See you soon on our next trip to India. 🙏
Nina Barba Navaretti
26 March 2023
Manoj is a great driver, we rode with him every time we come to Delhi and Jaipur for work trips. Always impeccable, drives safely and is very nice.
Valentina Fabiano
13 March 2023
I'm just back to Italy after a 10-days trip from Delhi to Agra and to Rajasthan with Manoj as private driver. I contacted Manoj a couple of months before departure to arrange with him all the details of the trip and he has given me a lot of useful suggestions for itinerary and accommodation. The trip has been amazing and Manoj has really fulfilled all my requests. He is highly professional, a very good driver and a really friendly man. Absolutely recommended for an unforgettable trip in India.
Maxence de Pommery
25 February 2023
Екатерина Каменева
23 February 2023
High quality service - good cars, kind and helpful drivers.
Plan an Unforgettable Experience
We help you to visit incredible India.